Natural Antibiotic
Mono Atomic Silver ™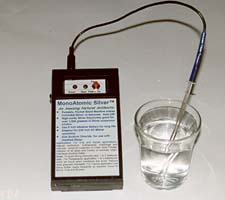 Average Cost of Treatment
is less than Rs. 45/- (US $ 1.00) per Patient.
Prepare within seconds, in your own Home or Clinic or Hospital. Totally Safe and Natural with Side Benefits - Antiviral, Antibacterial, Antifungal. For Oral / Sub Lingual and Topical use. Excellent for all types of Veneral Diseases, Sexually Transmitted Diseases (STD), Sexually Transmitted Infections (STI), Colds, Sore Throat, Flu, Skin Burns and other Viral Infections.
Disinfects drinking water.
SPAT
STD Pioneer's Awareness Trust
9/123 Marol Co-operative Industrial Estate
Marol Sag Baug, Andheri (East)
Mumbai 400 059
India
Tel: (+91-22) 2850-3986 / 2850-8653
Tel: (+91-22) 2852-6564 (Helpline)
Fax: 91 - 22 - 2850-6214
www: http://www.stdpioneer.org
E-mail: consult@stdpioneer.org
For a Map of our Health Center Click here
(in pdf format)