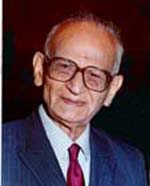 The Grandfather of AIDS Awareness
Dr. (Major) Maganlal P. Vora, M.B.B.S., D.V.D., I.M.S. (R)
The Pioneer for spreading STD / STI and AIDS / HIV Awareness in the World
He is 98 years old today and in fairly good health for his age. He spent his whole life in the promotion of awareness and treatment of Sexually Transmitted Diseases (STDs) / Infections (STIs) and AIDS. He is perhaps the oldest living person in the world having spent over 70 years in promotion of "awareness" in this field of Sexual Diseases. He went into Venereal Diseases right after his graduation in 1934. He was attached to the Department of Venereal Diseases of the Sir J. J. Hospital, Mumbai (Bombay), India in those days.

The list of numerous articles (over 100) written during his life bear testimony to this fact and his relentless commitment to this cause. For complete Biodata click here

The word SPAT chosen as an abbreviation for STD Pioneer's Awareness Trust makes sense since it explains his life long struggle to change the system and public thinking / discrimination against AIDS and other Sexually Transmitted Disease patients.

His life's passion was a struggle to fight the system and bring about a change in public thinking and remove the stigma. He is an unknown and forgotten person in his field. Perhaps this Website and Trust created will bring him into the limelight and get him the public recognition he richly deserves as the Grandfather of AIDS Awareness.

Breaking News
Silver Nano Particles Kill HIV-1 Virus

Certification obtained in the use of Nano Silver Particles in controlling HIV-1 Virus. This important landmark Research has brought humanity many steps closer to eradicating AIDS in our world today. This is the first time in the world that this scientific development (which has a far reaching global impact) has been reproduced by an independent laboratory to substantiate our claims and validate our research and clinical findings.
For more info download:
HIV-Test.pdf

For:Testimony for Treatment of HIV Virus

Mode of Action of Silver Nanoparticles against HIV-1


Here is a sample of the articles written by him during the last 70 years and more, in easy to read html format.
1. Importance Of Dark-Field Examination In Early
Diagnosis And Treatment Of Syphillis
The Medical Bulletin
No. 2 Vol. No. VIII, No. 182 of January 20, 1940
(Creating Awareness way, way back in 30s !)
2. Venereal Sores
The Grant Medical College Magazine
Vol. No. XLII, No. 2 of March 1941
(Creating Awareness way back in 40s !)
3. Control Of Venereal Diseases
The Social Service Quarterly
Vol. No. XXXIII, No.1 of July 1947
4. VD - A National Problem
The Illustrated Weekly of India
September 9, 1962, Pages 57, 59 & 69
5. What Is V.D.?
The Illustrated Weekly of India
Vol. IXXXIV, No. 12 of March 24, 1963
6. Portrait Of Venereology
The Bombay Civic Journal, May 1973
7. Attitudes To V.D. And Facts And Fallacies
The Bombay Civic Journal
Vol. XX, No. 10 of July 1973
8. Family Planning And V.D.
Maharashtra Medical Journal
Vol. XXX, No. 11, Sr. No. 359 of February 1984
9. AIDS
Maharashtra Medical Journal
Vol. No. XXXI, No. 365 of Augst 1984
and
Current Medical Practice
Vol. No. 28, No. 11 of November 1984
(Creating AIDS Awareness way back in the 80s !)
10. Attitudes to V.D. or STD
August 13, 1991
(Creating AIDS Awareness in the 90s)
There are over 100 articles and papers written by him.
For a complete list of articles click here.
(Available in easy to read html format)